The last year Ford put a rear sway bar on a V6 Mustang was 1997. It's an easy bolt-in job to add one to your 1998-03 V6 Mustang. Any rear sway bar from a 1979-03 Mustang or 1979-88 T-bird/Cougar will fit. The salvage yard I went to (All Mustang Recycling in Phoenix) had 21mm, 23mm, and 25mm rear sway bars in stock. They were all priced at $50.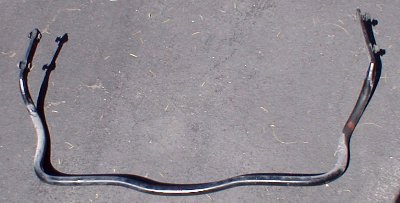 This is a 25.4mm (1 inch) rear swaybar. I'll put it on the back of my car, and then replace the stock 25mm front swaybar with a 27mm (1.06") bar from a Mustang GT.



If you get a used sway bar, be sure to ask for the four bolts and U-nuts used to mount it to the car. If you buy a new (aftermarket) sway bar, you will have to buy these hardware items separately.
Four grade 8 hex head bolts, 1-3/4" long, 3/8" coarse thread. (grade 8 bolts usually have six radial lines on the hex cap as shown above).

Either four U-nuts (Ford part number N811481S436) or four 3/8" coarse thread nuts.
People who who use the standard nuts find that they occasionally come loose and need to be tightened. You won't have that problem with U-nuts. They are made of spring steel and act like lockwashers.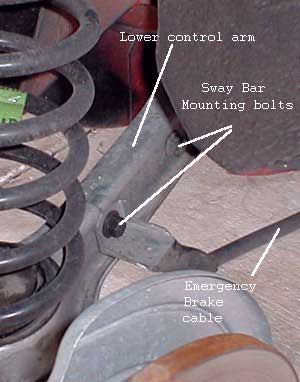 Look into the wheel well and you will see the lower control arms. You'll have to remove the bolt that holds the emergency brake cable hanger on both sides.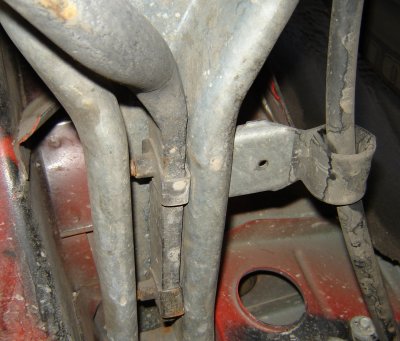 The sway bar ends (with U-nuts attached) slide up into the lower control arms from below and are bolted up from the outside. Be sure to re-attach the emergency brake cable hanger when you insert the rear bolt.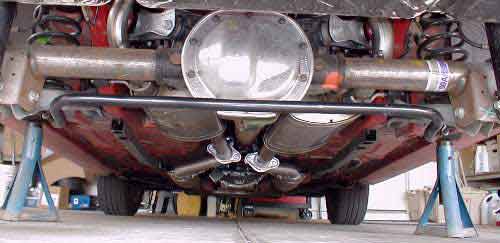 Torque the mounting bolts to 35 ft lbs, and you're done.
---
Update - November 2003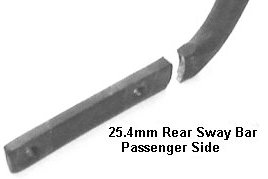 The 25.4mm (1") Cobra rear sway bars are known to sometimes break at the point where their shape transitions from round to square. That's where mine broke in November 2003. It had been on my car for 20,000 miles. I replaced it with a 24mm (0.94") rear bar off of a Mustang GT.
found @ http://www.miracerros.com