I have a 2002 Mustang myself, and I am very proud of my car. In case you can't tell, this car is my 'dream girl'! I bought the car in 2005 with low mileage, and no problems at all, except for a small scratch by the left front head light.
When I got the car I was 'hyped' and thought it was perfect. However, after a few months I wanted to change or add something on the car to make it a little better, make it more 'mine'. I guess you could say I wanted to make a statement.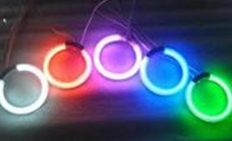 So I began to look around for car accessories, and the worst thing possible happened! I found a place that has every bell, whistle, and toy imaginable for Mustangs. I was giddy with excitement, and of course I wanted one of everything. I don't mind sharing my good fortune, so you can click here for the best selection of car accessories!
I had a hard time deciding what to start with, but I elected to begin with performance parts. Some of the parts were difficult for me to install; it's too bad that I had not found mikefordmustang.com at that time with the clear and concise instructions that he gives. It took close to a year, but I finally got the car running the way I wanted – she absolutely screams now!
My next project was to accessorize the exterior. A hood scoop, a spoiler and side scoops to start with. New rims and lug nuts followed along with shorty antenna and some other small items.
I took a rest for a while, and then accessorized the interior of the car. A few months ago I added a HID kit with angel eyes. I am now getting under lighting installed, and the glow lights for the door handles.
Car accessories can be a never-ending project, but that's all right because each and every one makes your ride that much more enjoyable.
Thanks for letting me post!